Archives...

Hello There!!!
Due to a number of request to reprint magazine articles that I have previously reprinted on this site, I have decided to add an archives page.
Thanks and Enjoy!!
CHECK OUT MAXWELL WITH
LI'L KIM AS THEY PERFORM
STEVIE WONDER'S LIVIN' FOR THE
CITY... on BET's 20th Anniversary show, May 6, 2000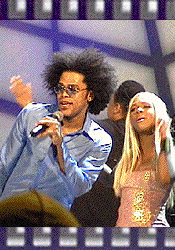 (photo from eurweb)
Maxi's Next Page Archives




Page 1.
RELUCTANT SEX SYMBOL... Hello all!! Here is an article that appeared in Ebony Magazine September, 1998. Enjoy!!
MAXWELL - Reluctant sex symbol soars with new CD by Lynn Norment
To say that Maxwell is not your usual pop, R&B performer is an understatement. In a business that is heavily populated with eccentric artists and those who flaunt sex, he stands out and alone. The hair. The sound. The mystique. The sensuous aura. The shy smile. The seductive eyes. The artsy photographs that sometimes obscure his good looks.
There are many things about this talented, 24-year-old music maker that seem to be shrouded in mystery, but two things are crystal clear: Maxwell consistently makes great romantic music, and he continues to be a sex symbol, though reluctantly, to millions of female fans.
His new album, Embrya, is a testament to those facts. Having debuted at No. 3 on album charts when it was released in early summer, the recording again showcases Maxwell's enormous talent as a singer, songwriter, producer and musician. It also is a testament for Maxwell's natural flair for stirring passion. As with his debut CD, the triple-platinum Urban Hang suite, and the live set that followed (Maxwell Unplugged), about the only noteworthy criticism is that Maxwell's mellifluous tenor sometimes gets lost in the melodious music.
When Maxwell burst onto the music scene in 1996, he was heralded as the new messiah of hot buttered, romantic soul, a youthful envoy for the funky-smooth R&B sounds of the '60s and '70s. There were comparisons to Prince (and the Artist Formerly Known as Prince), Marvin Gaye and Stevie Wonder. In addition, Maxwell, a charismatic stage performer who inspires female wolf calls and receives dozens of bouquets on stage, won raves for his sold-out concerts throughout the United States and abroad.
Music lovers, critics and hoards of female fans all have waited anxiously and with curiosity for the follow-up CD. Maxwell's first single, the sultry, energized "Luxury: Cococure," announced to all that he is back and better than ever. The performer says the song is a "good-bye to the ailment of the love affair" that inspired Urban Hang Suite and a hello to the "pursuit of internal luxury." It seems that the debut album was written about a woman with whom he had a weekend fling, and then she disappeared. Like most of his lyrics and titles, there are layers of meanings.
As on his earlier recordings, Maxwell's signature sensual vocals are undergirded by mellow rhythms, and with Embrya he has grown as a man and as an artist while refining his sound. He says Embrya, a term he coined, is about the "inner God thing" and "represents a birthing of myself, of a whole other person, but at this point I'm in that period of change...This album is definitely about my outlook on the inner things I'm desiring. And most of it is truly a love letter to God...," he says.
Indeed, mystique surrounds the intensely private singer who as a shy teenager wrote more that 300 songs while growing up in Brooklyn. When Maxwell was 3 years old, his father was killed in a plane crash en route to his native Puerto Rico. Reared by his strict West Indian mother and grandmother, he spent a lot of time in church trying to learn about the 'heaven' to which his father had gone. After high school, the quirky teen worked as a waiter in Manhattan while immersing himself in his music during his off time.
Maxwell describes himself as shy, nerdy, insecure-- "just a normal guy from Brooklyn." He likes cranberry juice and sometimes eats macaroni and cheese for breakfast. Those who know and work with Maxwell say he is "very polite," "extremely quiet," "mesmerizing," "particularly respectful of and sensitive to women," "rather pensive," "someone who ponders before he speaks." An executive at Columbia Record says Maxwell is "headstrong in a positive way."
when he creates music, Maxwell is an insomniac who takes great pleasure with keyboards and mike while everyone else is sleeping. "The recording and writing process can be so draining because in each song, I'm always trying to create those two or three special moments that make you want to get to the next moment," he says of his work. "But I'm at the mercy of whatever inspiration I'm under." For the most part, he is inspired to write poetic, romantic lyrics that are always beautiful but sometimes obtuse.
While Maxwell has emerged as a master of soulful, sensuous vocal seduction--his music is the backdrop for many intimate experiences--he acknowledges that he's not always comfortable with women and has had his share of heart-aches. "I don't know anything about women but I'm willing to learn," he confesses. "I've always been afraid of women because they're so mysterious." He says he's not really into dating but he is attracted to "strong women" who know who they are. He also thinks that "honesty gets you further" with women and is a lot more "endearing."
To this point, music has taken priority. "I immerse myself in my work to such a degree that there's no time," he says of dating. "But I've learned a lot from women. I've learned about subtlety, and that intimacy is also about the spiritual and mental connection that occurs. It applies to everything--to how you view are and listen to music and deal with your friends and make business decisions...What I do is so difficult for most women to deal with sometimes." Consequently, he says, "I'm used to rejection by women," because some women don't want to get involved with such a public personality.
No doubt, when Maxwell finds the time and opens his heart, there will be plenty of women seeking the opportunity to inspire new love songs.
Sorry for this space; please continue to scroll down...

_____________________________________________________
Page 2.


MAXWELL: Hottest Hunk Of The New Millennium
A reluctant sex symbol. Maxwell has touched the hearts and souls of millions of fans with his music and persona.
(By Aldore D. Collier - Ebony March 2000)
Singer says he is surprised by the reactions of women of all ages.
Ladies swoon over him. And they scream -- louder than the screams you would hear if you were on a thrill ride. He gets keys, telephone numbers and tons of unmentionables thrown on stages where he performs.
Not bad for a guy who's only been on the music scene since 1996.
Even the most cynical and jaded concert reviewers have showered Maxwell with the kind of praise reserved for legendary icons. He's often compared favorably to Marvin Gaye, Sam Cooke, Smoky Robinson and The Artist Formerly Known As Prince.
Yet the 26-year-old Maxwell has major-league trouble digesting it all. "It's sometimes weird what people create around you," he says. "I'm still in a place of not really feeling that way about myself. It's weird to be seen like that, but it's cool. I'm not upset. It brings a lot of attention. It's an interesting dynamic to life, I must say."
Certainly the accolades that he's receiving for his music and extraordinary showmanship are flattering, but the young crooner is shy and quite reticent about being compared with people he still views as enduring legends. "There's major pressure being placed up there with the great ones," he points out. "Aretha [Franklin] had years to cultivate. Marvin [Gaye] had years. And Prince had three albums before he did 1999. I just think people need to give me a minute."
They probably won't, though. His seductive style led to his albums, Maxwell's Urban Hang Suite and Embrya, both hot-sellers, and his concerts have been sold out from coast-to-coast. Women of various ages come in groups, alone or they bring their boyfriends to see and experience him. And fantasize. "When I see people [at my concerts] and see that twinkle in their eyes that says 'I don't know if you know it, but I've gone to sleep with your music,' I know what that feeling is like," he says. "I felt like Anita Baker was hooking it up for me when I was in high school. I know most of my concerts are attended by women. And I'm really pleased about that."
Maxwell, who some call "the sex symbol of the new millennium," finds women a fascinating study. "There are a lot of things I don't know about women, such as their pain, their frustrations, things that men just can't get," he says. "We don't understand what that's like. It's sort of like a White person can't know what it's like to be a Black man. With women, it's like there's this place where you can't step over. I try to learn more about what makes them happy and sad. I never lie to women because that doesn't work. Women catch [you] quick. They always do."
Even though countless numbers of women find him sexy, Maxwell says he's still searching for that special woman. His first priority is to find one who's secure enough to not be overly impressed by his celebrity. "I want a woman who sees beyond all this stuff," he says. "It's all superficial. In two years, I might join the Peace Corps or pick berries. I want a woman who's into me and not what I do. For me, a woman has to know that she's just 'the bomb' and say to me, 'I'm the bomb and you should be with me. If you go and mess up, that's your fault!' It should be that kind of attitude. That's the kind of woman I want. Not one who's insecure. Insecurity is the biggest turn-off."
Yet, there's a certain amount of insincerity in his persona. Yes, he's a confident writer/composer/singer. But he has never been able to see himself the way others do. He says he rarely looks into mirrors because he's not yet comfortable with whom he sees there. Maxwell does admit that much of his insecurity goes back to where it does for many -- his childhood. His mother is an American-born African-American. His father, who died when he was young, was Puerto Rican. "People would say weird things and not realize that my father was Puerto Rican," he remembers. "I never felt totally accepted or understood. I grew up wondering if it was wrong to be who I was. There are a lot of children who grow up feeling like they just don't fit in."
Perhaps that's why Maxwell's still a bit shy. But when he opens up, he has proven to be a well-rounded conversationalist who frequently gives his views on racism, sexism and age discrimination (he says he can't wait to be in his 40s). It is spirituality, though, that is the subject with which he seems to have the greatest level of comfort. Maybe that's because he's been reading the Bible and asking questions about life and death for such a long time. "I was into religion [because I wanted] to find out about God," he admits. "When my father passed, it was like, 'Where did he go?' I wanted an explanation. I wanted to know where that place heaven was. What's that all about? That really started me to asking questions about what it all meant. I'm still doing that."
And the young entertainer is still trying to come up with music for his fans that shows independence, artistry and, above all, integrity. He's not obsessed with matching the commercial success of his two previous musical efforts. And he feels no pressure to do so. His music, he says, is far too personal for him to care only about sales and positive reviews. His goal, he says, is to be sure to utilize his gift to create music that he hopes will be uplifting and inspirational, and music that will promote self-love among Black people. "We're beautiful. We're the bomb! We're children of God. We need to love ourselves enough to let go of the pain," he says. "In the future, that's what I'm going to focus on. It's important that little kids get a good sense of themselves and not inherit that feeling of not being beautiful."
_____________________________________________________
Page 3.
(By Quohnos Mitchell - VIBE - November 96 - Photo by
Eric Johnson)
The first thing you notice about Maxwell is the dense nest of kinky, natural locks sprouting from his head. The second is the confident ease with which he talks about his vision of music and life. "It's about being real and staying true to your flow," he says in a deep, sensitive baritone that could melt the ruby-colored shades perched on his chiseled face. "My flow is my music-that's what I'm about."
When asked how he got to where he is today, Maxwell, 23, shyly points to the sky and says, "It came from somewhere else. It was other people who thought I could do this. I was never the person to think I could do this." And on his debut creation, Maxwell's Urban Hang Suite, he unites his natural writing and producing talents with his real-life experiences - mainly the drama and flux involved in the game of love.
"People identify with honesty and risk," he says. "Some artists use their lives as a gimmick or gift to get them to the next level. I'm not about that. People enjoy music that opens them up and takes them on a journey."
And Maxwell should know because he began his own musical journey not so long ago. The Brooklyn native with West Indian/Puerto Rican roots was the quiet nerd who sat in the back of the classroom. "They used to call me 'Maxwell House Coffee,' " he says. After literally locking himself in his room with a keyboard at age 17, Maxwell began creating his own world. Now he's blossomed with songs like his latest angelic single, "Ascension (Don't Ever Wonder)," and seems ready to take his place in history among the great soul singers.
Comparisons to Marvin, Smokey, Stevie, and even a masculine incarnation of Sade are inevitable. So, is he a smooth operator. What is his sweetest taboo. Let Maxwell tell it and he'll say that his inspiration comes from his deep appreciation of women and a deep sense of responsibility to his gift. Whatever the source, Maxwell will continue to create a little "sumthin' sumthin' " for himself and other musical tourists.
____________________________________________________

Page 4.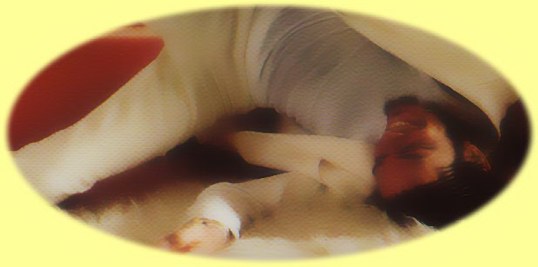 Okay... After months of waiting, here is a new reprint of a Maxwell article. This article is from the September 3, 1998 issue of Rolling Stone magazine. Entitled Maxwell - Toward A New Definition Of The SoulMan. Written by Patti O'Brien for the Style section of the 'zine. All photos are by Mark Seliger and the Q&A is by Mark Healy.
____________________________________________________________
Throughout the ages, they have had a name for this place. Jimi Hendrix called it Electric LadyLand. Prince called it Paisley Park. Maxwell calls it the Urban Hang Suite. In all cases, it is the very model of modern cool, and there are women everywhere, and no one wears much. Since his debut album, two years ago, Maxwell's name has been synonymous with slow grooves, soul and sex. The Brooklyn-born twenty-five-year-old calls his new album Embrya. In case you didn't get it from the title, it's more baby-making music.
Q: So you threw people a change-up on last year's MTV Unplugged album when you covered Nine Inch Nails' "Closer."
A: I just love the song, and I said, "Someday I'm gonna do this.: I knew I couldn't rock it the way Trent [Reznor] did it. But it was about taking it to church, about taking something that was really weird, almost sadistic, and making it God motivated. That eroticism is really dope - the fact that God and eroticism can be the same thing.
Q: Do you ever go to church?
A: I used to go five days a week. It was a Baptist church. I didn't sing in the choir or do any of that stuff. I'd fiddle around on the piano, but I was really shy. I didn't like the attention. My mother can't even believe what I do now: "As shy as you were! I can't believe you are in a video in a bathtub with some girl. Do you know how many people have your records?!"
Q: You were pretty secretive about this new one.
A: I wanted to do this record that was not unendingly compared to my first record, and to do it without any kind of hoopla or any of that. I don't make music to make records. You know, whatever I have to do, I'm always going to keep my first love. If I'm flippin' burgers, I'm flippin' burgers, but I'm going to make a song after work.
Q: Do you want me to introduce you to someone at Burger King?
A: You may need to. Who knows? I used to do it. I worked at Pizza Hut when I was fourteen. I had my first really amazing sexual experience with this freaky, spacey girl I worked with. I was like, "Yo, I love to go to work. Please." It was my first freedom moment.
Q: That's a good work environment...
A: Oh, yeah, B. Work was banging... literally. It was, like, a trip because, you know, everybody has that first girl. You know, you mess around in the beginning - "You show me your thing, I'll show you mine" - but this was me finding out what it was all about.
Q: What's the one article of clothing of yours that you wouldn't let a girl wear?
A: Oh, I don't mind that. That's kind of cool, you know?
Q: Even that straw cowboy hat?
A: Well, yeah! There are specific situations where that hat would really work, you know what I mean?
Q: Yippee-yi-yay?
A: There you have it.
Q: What's on your disc player?
A: I've got, like, a compilation that I put together: some Tito Puente, some Massive Attack, some old Deee-lite. I like spacey kind of mood joints. It's funny - I think I'm in a stage right now where I don't feel like music needs to be in my life. I feel like so many people want their music to be more in the foreground, really right up there. And I don't feel that. It can just be an amazing backdrop for what I'm feeling.
Q: Like if you're experiencing, say, making out with your girl?
A: [Laughs] Word. I've got to be honest with you - that's what I try to do. I mean, not necessarily making out, but I want to be the stuff you listen to when you're e with your girl or when you're washing the dishes or cleaning the car on Sunday afternoon. To me, that's the best stuff.
Q: Do you hang with your fellow soul revivalists - Erykah Badu or D'Angelo?
A: We don't really hang because somebody's, like, doing a record, or they're promoting one, or they're taking a break. But I like both of them. I mean, heavily. I think they've done an amazing thing, coming into the R&B market and taking such control of their careers and business. That's dope, man. You know? That's artist-type stuff right there.
In a lot of ways, Erykah has a musical power. A lot of R&B women rely on their sexuality and not on their femininity, which is basically more powerful. And I'm very appreciative. Obviously the initial thing is seeing a pair of breasts that you like and a pair of legs that really work, but when someone has a deep sensuality, that feminine power, that's the thing that draws you to them.
Q: There must be a lot of pressure on you to be this smooth, knowing guy.
A: But you know what's funny is that my lyrics, everything, is about how I don't know. I find it ironic that people think it's about getting down, but it's just about nerves.
Q: You're not shy about showing your vulnerability.
A: I gotta be honest: Sometimes I hate all the mushy things that I sing about. It's really hypersensitive stuff for a man, you know what I mean? Because for the guy side of me - the Brooklyn, Puerto Rican, West Indian guy side of me - that's some weak shit. That side of me really hates that I go there, but I know that that's the art side, that's it's the sacrificing side. I need to do that because that's what the people I like do. Martin Luther King - he was right there. Marvin Gaye? Everything about his life, his sensitivity, was right there for you.
Q: The vulnerable side could be the strong side.
A: You know, it's so much easier to be real macho. The world likes that stuff. It's expected. But what's even more fucked up is that that vulnerable side is all out there on my records. It's like everybody knows I'm a pussy [laughs]!
Q: The ladies like it.
A: It's not like I'm going to run around and act like that with my friends. But I think those are the best times I have had with a woman - when I could admit, "I don't know what the hell I'm doing, baby. I don't know what's going on." You know? But, still, they want you to be their man; they want to be spanked and all that sort of shit.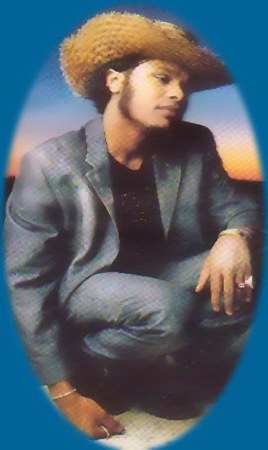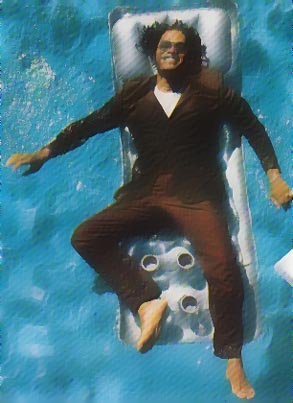 _________________________________________________
Page 5.
MAXWELL
A heartbroken soul
suffers for his art
____________________
*Following in the footsteps of the Rolling Stones and the Flamin'
Groovies, nouveau soul man Maxwell is simply calling his
upcoming album Now. "It's kind of reflective of where I am now,"
he explains. "I wanted to make an eclectic record. There's not
just one kind of vibe on it. There's hard stuff, funky stuff, sex
stuff, and stuff to make teenage girls cry."
As for inspiration, Maxwell, 27, admits that there is a secret sub-
text to the disc: "Actually, a lot of it came out of a heartbreak
phase--I had a real rocky romance year, so there's a bittersweet
thing going on in a lot of the songs. It's really about accepting life
and not trying to create a perfect mirage of what a relationship
should be." (April 3)
(The above article and photo are from Entertainment Weekly magazine, Jan. 26/Feb. 2, '01. The photo is by Eric Johnson. The author of the piece is not listed. The date at the end is to denote the release date of Now as known by the author.)
_________________________________________________
Page 6.
Maxwell In The House! by Dimitri Erhlich
There's a moment in happening musicians' lives when they either explode into the stratosphere or just fizzle - and it's often then they're at their most exciting. Maxwell stands on that launchpad now.
The first time I met Maxwell was at the MTV offices in New York City. He was completely unknown at the time, and walked with a lynx's slink. I remember he wore an unflattering wool ski cap that concealed his voluminous hair, as though he were practicing the paparazzi-avoidance techniques he was certain would soon become his lot.
He was right. Rarely have I met anyone as sure as Maxwell was then, not only of his impending success, but of his artistry. Long before anyone had heard his name, he was incredibly comfortable about demanding perfection from himself and everyone he dealt with; "I guess that's good enough" is simply not a phrase you'd hear coming out of his mouth.
The twenty-four-year-old, Brooklyn-raised singer's mouth is one that melts easily into a ravishing grin. He is handsome to the point of being pretty, and his videos have helped install him in that special category of music stars: those whose fans not only want to hear them, but to see and touch them, too. Maxwell's voice is an ever more compelling reason to like him. He can slip into falsetto as gracefully as RuPaul can into Gucci, as though he was born to it.
In a very un-'90s move, Maxwell made his first record, Maxwell's Urban Hang Suite (1996, Columbia), a concept album. Partly co-produced by Stuart Matthewman (former bandleader for Sade and current member of Sweetback) it's a collection of intricate R&B love songs based on a romantic interlude in Maxwell's life, and it has the groove and smooth factors locked down tight. Here's the pitch: Boy meets girl in club, eyes locked across the room, they go home together, they ball all weekend long - and never speak again.
DIMITRI EHRLICH: So tell me about the life of Maxwell in the last few days.
MAXWELL: It's been crazy. I landed in New York after a European tour that began in January and was back in my apartment with Vicks VapoRub all over my head. Three hours later I gut up to present a Grammy and then went back to sleep again. And one of my musicians left the band. We had three sold-out shows that we had to postpone because of all the new variables that came up. I just got sicker and sicker from all the stress; it's neverending. I'm not complaining - I'm very fortunate to have the opportunity to express myself musically - but it is lonely because there's no time to kick it with people. And sometimes when you're in public situations, people look at you as if you were furniture, like they didn't know your hair was that curly. It's weird.
DE: Is success making you happy?
M: I've always been happy because I have an outlet that works for me. I'm just in a state of disbelief that all this has happened.
DE: What were you like when you were younger?
M: I was a big nerd in high school. I sat in the back of the room, I was quiet, nobody knew who I was.
DE: Has having a hit record and several videos all over MTV inpacted your love life?
M: I had only two girlfriends in the entire time I was in high school and I had no date for the prom, so it's wonderful to have this whole girl thing attached to what I do now.. But I go deeper than that. Maybe it's my secret way of trying to make it harder on myself. Unconsciously I'll always try to do that so I can constanly struggle. With women who are interested in me, I'm looking for something else in their eyes, that they see beyond the lights, the shiny suit, the music. Even with the people who work for me, it's the same thing. I want a band that is a close-knit group of people. Sometimes we get on each other's nerves, but everyone is able to express their feeling and not feel like they're gonna get fired.
DE: It seems that both men and women love your music.
M: I'm happy that the guys enjoy my music and get the message. I get letters from guys saying they used my album when they proposed to their girlfriends. And my album is not just about having girls feel good. I want guys to feel down with me, too - to know that someone is expressing and verifying things they feel. That's what listening to Sam Cooke or Antonio Carlos Jobim did for me - verify that crazy romantic feeling that a lot of men have inside.
DE: A lot of '90s musicians are being packaged as the new version of some earlier icon. Joan Osborne has been described as the new Janis Joplin and Erykah Badu is the new Billie Holiday. You're often spoken of as the new Marvin Gaye. How do you feel about that?
M: Visually, Marvin Gaye and I are millions of miles apart. If I were in a suit and had short hair, it would be different. It's a compliment to be mentioned in the same breath with him, but the reality is that I have a lot of living and loving to do and a lot of music to make before I am even half of what he represented musically. But I try to live up to my own standards every single day of my life.
DE: You have a reputation of maintaining tight control over your career. How do you feel about the relationship between what your vision is and what the reality of your life is?
M: I think overall you control what you want to bring forth to people. There may be some details that don't fall into line, but how you choose to live your life and represent yourself musically must make sense. My life is not a promotional vehicle. I don't have that much of a private life. I don't think I'm Michael Jackson, but if I walk out on the street at this point I can't count to ten before someone recognizes me. so whatever I do behind closed doors with my girl is all I have, and I gotta hold on to that. there's no sacred place to draw from to write a song if it's all out there.
DE: Being identified with one musical style can be an effective marketing tool, but it may not be the most liberating or realistic way for an artist to exist. I know your earlier demos were like alternative rock mixed with R&B. why did you decide to make your first album something that could be very simply and definitively described as romantic R&B?
M: I'm so innately romantic and always have been, and I went through this particular romantic experience and wrote the album based on that. What I was about musically in my demos was a little more esoteric, and I think more of a relationship needs to happen between me and the world before I bring that out. If I came out preaching my feelings about social problems it would be a little presumptuous. I'm into consistency and gradual progression, and the second album will represent the next stage of my musical statement.
DE: I've got to ask you this: Did you ever sit down and sing the songs on Maxwell's Urban Hang Suite for the woman you wrote them about?
M: No.
DE: Did she ever call you and go, "Hmmm..."?
M: No.
DE: You never spoke to her again?
M: No.
DE: She never reached out to you?
M: I don't know. I haven't felt her tug yet.
DE: O.K. Can you talk about your songwriting process a little?
M: It Just happens. I could be in the shower or I hear someone say something a certain way and suddenly I have a song. And then I'm running to get to the piano or singing it into my answering machine, or whatever. My biggest fear is that inspiration will one day stop, but I think the only way that can happen is if I take it for granted when it comes. So every time I get a song, there's nothing more important that getting it recoreded in some way, shape, or form so that it can one day become a full piece.
DE: Where does the inspiration come from?
M: women definitely represent a major inspirational fiorce for me because I think creativity is innately feminine.
DE: Can you elaborate on that?
M: Obviously, women, at twelve or thirteen, get either cursed or blessed with the fact that they are vessels for human life to come through. And that's what music - what creativity - is to me.
DE: Being a man, how do you get into that female side of yourself?
M: I guess being a man is a truly physical state, and mentally it's a little bit limiting. But what I'm talking aobut is not a person's "femal side" or "male side." The only way I can pay homage to that feminine thing - not necessarily to women but what the represent as creative forces - is by getting artistic and making music.
DE: It seems to me that your music expresses cultural pride through language and rhythm and a certain vibe through a specific political stance. How do you feel about race issues in Americal today and where do you see yourself fitting in?
M: I'm half Puerto Rican and I know that if you're black, you're black, and if you're Mexican or spanish, you're black. that's the bottom line. Obvioulsy there can be a certain impenetrable feeling of helplessness you have when you're African-American in a society controlled by Caucasians. Not every black person gets to write music and be on TV or play basketball and move in certain cirles. Most black people live a normal life where they have to deal with day-to-day, psychologically subtle racism, which is the most severe type. But that doesn't alter the fact that we control our own destinies - and we need to take pride in and power from that. It may take some time to build the church, but let's get on with building it. [pause] It's difficult for me to truly comment because I'm fortunate even to be where I am. I've got a record deal; I've got music out in the world. I'm not trying to be seen as a black person or Spanish person. I'm just trying to be seen as a person. that's what I admire about Sam Cooke, because when people look at him, I don't think they see his color. When people's work is true to itself, it transcends those things.
DE: Do you feel you've had a comparatively easy journey, or has it been a struggle?
M: My whole situation has been underdog-like. I did my first shows on a black college tour with the Fugees and Groove Theory. My songs weren't on the radio, not did I have an album of any kind, so there was no way anyone could have known who I was. I was like this new nigger on the stage with big hair, and I remember I came out in the second show and there was a bunch of guys in the front that started busting on me. They were like, "Look at that motherfucker's hair." But I found the more people tried to hold me down, the more it made me do my shit.
DE: Your hair reminds me of Bob Marley's before he had dreads.
M: You should see my hair when it's wet.
DE: What does it look like?
M: It's very straight, very Puerto Rican. It kills me to have the hair that I have and to be seen as a pretty boy, because I was trying to go the other way. There are other facets to what makes someone beautiful, like creative cool. Individuality is the truest power anyone has. I just try to let the power go through me. I'll see if I'm still worthy in two years to contiune to do things the way I want to do them. Hopefully, I'll still have the passion and the conviction - otherwise I'd rather work at McDonald's.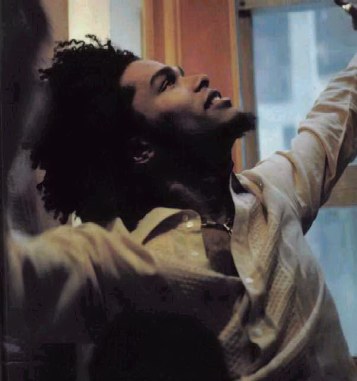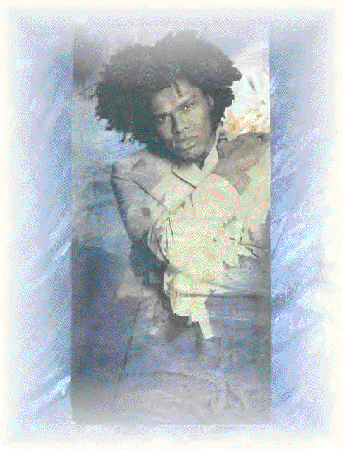 _________________________________________________
Hello Max-Family!!
Here is another Maxwell article for you. This is another article from the UK written June 26, 1998. The author is listed within the article and the publication is listed as Telegrah.CO.UK. (A friend at another site hipped me to this one!)
Perhaps, I made him nervous? Maxwell is the best soul singer and songwriter since Marvin Gaye. But his conversation is strangely impenetrable, says Neil McCormick.
For my audience with Maxwell, the great black hope of soul music, I was escorted into a darkened hotel room. Blinds had been pulled down to block out the sun, the only light coming from an array of thick church candles. Incense wafted through the air, adding to the sense of new-age spiritual sanctuary. In the midst of this sat my host, dressed in smart designer black, his braids of hair tied back, spouting forth huge chunks of incomprehensible mumbo jumbo. Let me give you an example:
"This represents the burgeoning period for me," Maxwell announced, discussing the musical direction of his new album, Embrya (released by Columbia on Monday). "The more potential, the more kind of going-to-be thing that Maxwell's going to be or that I'm trying to do. It's kind of a thing that's quite not known. It's like the break of dawn. There's something so amazing about looking at the road ahead. Kind of getting caught up in the idea of the potential of your destination more than actually kind of letting people know that you're there. Isn't everyone sometimes in a state of gonna-be happiness, or gonna-be sadness? And it makes perfect sense. I'm gonna-be with this record, I'm not being. Which I'm so cool with." Well, I'm glad that we cleared that up.
I think that maybe I was making him nervous. When I later told him how much I liked his debut album and how impressed I had been by his live performances, he was genuinely surprised. "That's so weird!" he said, and laughed. "Thank you. I just don't get the impression that you like anything I do." He went on to apologize for his vagueness, suggesting that it stemmed from a vagueness within the album itself. "It's funny, I kind of pride myself in trying to know what I'm talking about, but I think this record just needed to be liquid, to be like vapour, with no specifics or particulars, that it just didn't have to be anything but what you thought or what you felt, be it positive to me or negative to me. I think you know what I'm saying."
To be honest, I didn't. But then, why should anyone care what the 25-year-old New Yorker has to say? The phrase "shut up and sing" springs to mind. After all, he has a gorgeous voice, capable of shifting effortlessly from a rich tenor to a yearning falsetto. His sinuous vocals glide in and out of his smooth, immaculately produced songs, filling them with tender, imploring emotion and wide-eyed wonder. Yet it would be doing Maxwell a disservice to dismiss him as just another empty head with golden tonsils. He may well be the most significant soul singer-songwriter to emerge since the seventies heyday of Marvin Gaye and Stevie Wonder. It was to this golden era that his 1995 debut album, Urban Hang Suite, harked back.
Turning away from the streetwise sounds of hip hip and the bump 'n' grind of New Jack Swing, the young multi-instrumentalist created a sublimely restrained, evocatively sensual, soft-funk and jazz-tinged sound, drawing on such classic influences as Gaye, Curtis Mayfield and the Isley Brothers. The term being bandied about is Nu Classic Soul, but what set Maxwell apart from other proponents of the genre (such as D'Angelo and British star Omar) was the totality of his vision. Urban Hang Suite related a romance in three acts, spinning out a moving tableau of introduction, seduction and rejection over deceptively subdued, sweetly mellifluous jams. There was an emotional and psychological depth to it rare to the genre. With his new album he has added a spiritual dimension, describing the more free-flowing and instinctive Embrya as a love letter to God. Mind you, Maxwell is one of those seductive soul preachers who can make the Second Coming sound like something from the Kama Sutra.
Attempting to explain the appeal of clasic soul, Maxwell spoke to me of its ""deeper sentiment" and of songs that explored ""spiritual psychology" rather than just banging on about getting laid."" "Sometimes, when I'm at a club, I don't wanna get all deep. I just want some booty shaking," he said. "But I know what I always dig is depth and booty. Soul and ass is the best combination." Which was the most succinct thing he said during our encounter.
Like Prince and Lenny Kravitz, Maxwell was one of the reclusive musical prodigies who seem to have developed in the solitude of their bedrooms. He was brought up in a tough area of Brooklyn, and after the death of his Puerto Rican father, when Maxwell was only three, his deeply religious West Indian mother became somewhat over-protective, refusing to let him play outside. By his own admission friendless and insecure, it was the discovery of a cheap Casio keyboard at the age of 16 that liberated him. He mastered it, began making demos and had composed some 300 songs by the time he signed to Columbia in 1994.
It may be his youthful isolation that has left him with such an odd conversational style. At times it is almost as if he has invented his own language. He speaks confidently, attempting to articulate complex ideas, but he regularly misuses words, blithely carrying on as he leaves his baffled listener behind, following a trail of ever-expanding sentences.
While Maxwell's recorded music, with its qualities of restraint and subtlety, appear to reflect his evident introversion, he is an entirely different proposition live. Fronting a classy eight-piece band, the handsome, debonair singer becomes the very personification of charisma. His music takes on a much punchier aspect, while he sails around the stage, reaching out to audiences with widespread arms and a headlight smile. He himself professed to being baffled by the transformation that takes place. "A lot of the performance stuff really just came out of insecurity," he said. "I've been so, so insecure, and so kind of frozen with fear about messing up. It's funny, it's like when I'm so close to that, I think I just jump. I say **** it, I'm just gonna be as this is, I'm gonna be so another thing, not to get away from who I am but just to kind of enhance what I know who I am... a bit."
Perhaps the most unusual thing about our encounter was that Maxwell seemed to enjoy it so much. Courteous as most stars are during interviews, they treat the process as something they must grin and bear. In the dark, peaceful environment he had created, however, Maxwell was apparently intent on getting more out of the experience than just publicity for his new album. "All this stuff that I have to do, it's wonderful," he said, out of the blue. "I feel like this is therapy to me. You get to talk about yourself and get to kind of revisit things inside your soul. You already in this interview allowed me to find something about what I was doing that I had no clue about."
Well, at least one of us ended the conversation more enlightened.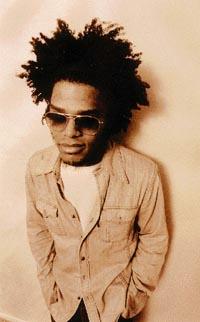 ____________________________________________________________
THE SEX SYMBOL - Jeannine Amber (Essence November, 1997)
How can one man satisfy so many women? To hear Maxwell tell it, he doesn't have a clue. But his secret may be that he ain't too proud to beg.
It's a hotter-than-hot Sunday night at the fabulous Fox Theater in downtown Atlanta, and if you didn't know better you'd think it was prom night--the way they all have gotten their hair done special and wrapped themselves in sparkly dresses and clouds of sweet perfume. The way they're poised half out their seats, ready to flirt, to dance, to be swept away. Never mind that the women here outnumber the men five to one; even those who have brought a date are here for one man only.
There he is now.
Surrounded by pink light and a halo of hair, he looks out at everyone, smiles and winks. A woman runs to the stage with an armful of roses. "Awww," he says, beaming, licking his lips, shaking his head. "Sukki, sukki, sukki,' someone screams. "I'm just happy to back with you-all," he pauses. "You know we're back together, right?"
One woman jumps up and waves her arms over her head. Maxwell smiles, touches his fist to his heart, his fingers to his lips. The woman hits her friend on the arm over and over. "Did you see, did you see?" she cries and collapses back into her seat. A whole theater full of women and his young man--this suit-wearing, crazy-haired, looking-like-he-walked-out-of-1974 young thing--has got hips swinging this way and that. Maxwell, Maxwell, our chocolate dream, you shake your thank and make us scream.
People are calling 24-year-old Maxwell the new It man, saying he's the first one since Teddy Pendergrass to ship women into such a frenzy. He has rocked show after show after sold-out show on his recent American tour, sold more than a million copies of his album Maxwell's Urban Hang Suite, been summoned for countless encores and been handed thousands of bouquets, and made the women swoon and sway. But as much as Maxwell's appeal onstage is about pure sexual energy, he makes it a point to buck society's expectations of what a Nubian sex god should be. Maxwell insists he isn't the over sexed outta-control brother who will bump and grind you into oblivion. He says he want more than your body, but the way he communicates it--seducing you from the stage with his sly smile and his elegant yet oh-so-suggestive moves--has the effect of rendering Maxwell the very thing he claims to reject.
In person, he seems almost perplexed, then stunned, then embarrassed by the craziness he causes. He dances around the issue, explaining and making excuses, as if he wants you to know he isn't responsible. For all the work he's put into his career, being a sex symbol, he says, was never part of the plan.
If you don't believe him, just bring up his star appeal and watch his face crumple. "Really," you say, "women love you. You know that, right?" "Now, I don't," he insists. He's laughing nervously. Blushing a little. He's got his hands under his mouth, and he's shaking his head no. He looks so uncomfortable, you almost want to apologize.
Since way back before high school even, Maxwell has always been a little different: quiet, quirky, shy. Hardly the makings of a heartthrob, especially considering his "regal Joe" given name, which we aren't mentioning here in deference to his family's privacy. The Brooklyn-bred son of a Caribbean mother and Puerto Rican father, he says that as a child he often had trouble balancing his desire to be American with the Caribbean flavor at home. "It was like two different vibes, two different energies," he says. "I was trying to get a flattop, and they'd be looking at me like, 'No.' It was very difficult, coming up in my neighborhood and having a family that was just so out there to other people."
When Maxwell was 3, his father was on a business trip en route to Culebra, a small island off the coast of Puerto Rico, when his plane spiraled into the Caribbean Sea. Maxwell never saw him again. After that, with all the logic of a 5-year-old, Maxwell did his best to make the world predictable and secure. He would line up his entire wardrobe for the week. He would carry pockets full of cereal and sugar, just in case he got hungry. And until his mother asked him why he was always looking so ashy, he would rub soap all over his body, after his shower and before he got dressed, just so he'd be prepared in advance for his next bath. Other than that, he was very little trouble.
By the time he was a teenager, Maxwell's only rebellious act was dressing a bit bohemian. There were no wild girls and no loud parties. In fact, Maxwell was such a good, good boy that even his mother was worried. He was always at church. He knew every line of Scripture. Maxwell says, "I wanted to find out where my father went. Everyone was like, 'He went to heaven,' and I wanted to know where that was."
Maxwell's father's death left a gaping hole in the family. Without her husband, whom she adored, his mother had a difficult time. It was almost as if Maxwell had lost two parents. When talking about it now he bobs and weaves, as though he wants you know something but he doesn't want to say it: "when I was growing up, people in school would think they had a clue about me, but they didn't. They had none." what he will say is, "My mother had me when she was young. There was a lot of shame. And for a moment, I was my grandmother's son. But it's all cool now." He says, "They're both my moms."
Maxwell has never had it easy with women. He wants unconditional love, but he's almost immobilized by the fear that he won't get it. And that would be unbearable. Sitting in an empty dining room in the basement of a Washington, D.C. hotel, Maxwell remembers the first tug on his heart. It came from a cute little chocolate-chocolate girl he spied between the seats of the school bus. He didn't say a word; he just loved her.
"So did she crush you, Maxwell?" He shrugs and smiles. "She"--he slaps his hands together--"like they all do." He was 4. Then there was a girl in high school who "stepped, crushed--the heart was on the floor, destroyed. I don't know what happened, but she really, really hurt me, hurt me, hurt me." And then there was the woman he wrote the album about. He met her at a club, had a weekend-long fling and never saw her again. Even after the album, 11 songs, a musical ode to her, she still hasn't stepped back into his life. Not even a hello. "To this day," Maxwell says, "when, in my mind, I'm begging, in my heart and soul I'm begging, Please be down with me, I never walk over [to her]. There's no way she could like me. She's too fly, she's too bad to like me." Not exactly what you'd expect from a sex symbol. But again, becoming a sex symbol wasn't on the agenda.
After high school, Maxwell worked for a few years as a waiter at The Coffee Shop, a trendy Manhattan joint. That, he says, was when he finally began to feel comfortable around people. Meanwhile, he wrote music. It was his passion. When he finally got signed and his album was about to come out, Maxwell went head-to-head with the executives at Sony to make sure his picture wouldn't be on the CD cover. He wanted the music to speak for itself. And when they released his first video, there he was, Maxwell--sans beauty light but with that crazy hair--prostrate at the feet of a woman. He says he wanted to show a man weak and vulnerable. We all raised our eyebrows. After years of hearing young men sing about knocking boots and booty calls and licky licky licky, who was this sideburned brother singing about love? It took us a little while to catch on.
He did not blow up. Instead, Maxwell's ascension to stardom has been slow and steady. His now-platinum Maxwell's Urban Hang Suite, released in May 1996, eventually earned a place on Billboard's "Top 10 R & B Albums" and "Hot R & B Airplay" charts. It gained momentum largely by word of mouth. His listeners, the same ones who, he says, used to make fun of him, now write him letters and accost him on the street, telling him about their love lives, how his music made a difference, how they named the baby after him because they listened to the album while they, well, you know. He tells these stories and gushes. "It's just so beautiful. It's incredible. It's such a compliment. People don't play just anything during that."
But despite all the love Maxwell gets from fans, he says what he really wants is to get married and have kids: "All those beautiful things are what life is about. It's not about the game and running around." Maxwell is not the guy who pushes up on you. He doesn't flex and preen. He won't take off his shirt and hump the stage. He's not going to compare you to his Jeep. Maxwell is not like other boys. His sexiness is not about sex; it's bout desire. Maxwell just loves women. Revers, worships, adores us. He says it's high time women figured it out. "[Women] are really, really dope. You are really amazing. You can have kids, you can create. You do remarkable shit. You reflect and exemplify the universe in a way that men don't. And it's all right to be cool with that. You have to hear it from another woman, you can hear it from a man.
"Right now," he admits, "I just romanticize things. I'm just that kind of person when it comes to love and women. I know you-all can be crazy, but I'm cool with that. I'm not like, 'Be this perfect person or I'm out the door.' "
Then he pauses. "Was that a good answer? Because I was just reading out of a book--Idealizing Women: How to Do It." He laughs, "I'm just playing."
Maxwell is nothing like what we've come to expect from young Black men trying to be sexy. Not even in person. Let's say Maxwell has a crush on you. The first thing he's going to want to do is talk. For hours, and probably over the phone. If you get hungry, he might order you both pizza. That way you can chill and talk and eat the exact same thing. If you kind of squint you eyes, you can almost picture Maxwell as your boyfriend. Until you see him onstage. That's when everything he says about being shy, lonely and unsure flies out the window. Onstage he's a star. A very, very sexy star.
He prefers to be considered a "catalyst." The way he sees it, he is simply unleashing the pent-up sexual energy women have bubbling inside. "I think women get so few times to celebrate that emotion outwardly," he explains. "Women always gotta front. If a woman is feeling a guy, this is the way she acknowledges the felling." He very slowly shifts his eyes from right to left. "For women, [coming to a show] is like giving themselves permission to act it out and to have anybody be upset with them." Perhaps. But more likely women go nuts because Maxwell seduces his audience into a dizzying fevah by offering us something we crave: a man who really wants to please us, and not just in bed.
There is now, onstage at the fabulous Fox. He says he wants to break something down: "Some of you-all ladies, what's going on?" he says to the crowd. "We be trying to please you. Right, brothers, we be trying?" Some guy barks. "But I can't read your mind. I gotta tell you something. I'm the kind of brother..." He pauses, raises his hand to his chest, "Teach me!" People are out of their seats, screaming. "Teach me about love, baby. See, I'll rub your back, baby" Screams. "I'll feed you your Cap'n Crunch, baby." Screams. "I'll paint each and every single toe, baby" Screams. "I'm sure 'nuff gonna." Screams. "I'll go to the grocery store..." A Gasp. "...and buy you a box of tampons." Screams and screams and more screams. "Teach me!"
This is the frenzy that Maxwell seems most reluctant to take responsibility for. But his reluctance may be about more than shyness or modesty or even the fact that this wasn't planned. Maybe the desire to please that Maxwell radiates onstage is grounded in more than he cares to discuss. After all, what is eagerness to please, really, except a wish to be loved? Night after night, Maxwell opens his palms and beams adoration. We beam love right back. He shines, we scream and you have to wonder just who is enjoying this lovefest more.
By the end of the night, hundreds of women have rushed the stage, forming a sea of strappy black dresses. They want Maxwell for an encore. Then there he is, back onstage, grinning from ear to ear, happy and radiant as a sunflower. His open hand on his chest, and he's looking at the crowd like, "Me, you really want me?" Everybody screams and swoons. Of course, Maxwell, they want you.
______________________________________________________________________________________
Hello All!!
I found an interesting little piece in the 2-17-03 issue of People Magazine that I thought would interest you. We have known since day one that UHS was the ultimate make-out jam. I guess it has taken 'others' this long to find that out. Read on...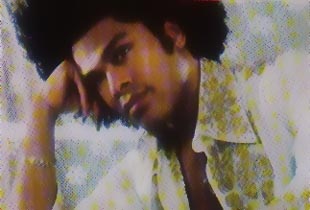 Maxwell's Urban Hang Suite
Maxwell (Columbia) This neo-soul man's 1996 debut made him an instant sex symbol, with his silky falsetto, bedroom balladry and sensual arrangements. A concept album tracing the course of a love affair, it peaks midway with the simply beautiful declaration "Whenever Wherever Whatever." - C.A.
______________________________________________________________________
I almost forgot...!!! This notice is from Columbia Records...
Congratulations to MAXWELL!
He has been nominated for a Soul Train Music Award for Best RandB/Soul Single, Male, "This Woman's Work."
The 17th Annual Soul Train Music Awards will air in national syndication starting March 1, 2003. Check your local listings for air date and time!