MAXI'S NEXT PAGE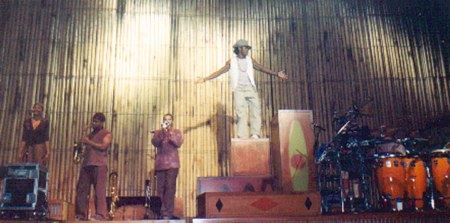 ____________________________________________________________
IF YOU WANT TO SEE A LITTLE OF WHAT MR.MAXWELL IS UP TO THESE DAYS, CHECK OUT SOME PICS POSTED AT WIREIMAGES.COM... YOU MIGHT BE SURPRISED!
___________________________________________________________
UPDATE TO THIS SITE -- CHECK IT OUT...NOW!!
(12-29-03 ...And check out Dedicated to the One(s) I Luv... Ms.GSB continues to do her thing. She's hittin' up style, y'all!!!)
Hello All!! A new page has been added dedicated to a new up and coming rocker named GhettoSongBird. Read all about her recent appearance on BET's 106th & Park as well as other gigs in her hometown of Philly and in and about NYC. Also check out where you may be lucky
enough to see her next. Find out more on the page Dedicated to the One(s) I Luv... Peace and Enjoy!!
___________________________________________________________
The second leg of the Now Tour is now over :o(
But we must go on!
Please check out The Now Tour - Part 2.
I'D LIKE TO HEAR FROM YOU !!!
E-mail me your Summer Max Experience!!!
I will post it so you can share it with the world.
The world of MaxwellLovers, that is!!!
Hey Now!! I have heard from my girl, Naggie (finally) on her Summer Max Experience!
Check it out!
(in Now Tour Part 2)
1-12-03
And now you can read all about
MY Summer Max Experience...
(Part of it, anyway...)
Check it out!
And there's more to come!
2-3-03
My Chicago Experience has just been added - Check It Out!!!
3-16-03
______________________________________________________________________
HEY Y'ALL.....!!!!!-----
I finally found some time to sit down and reprint another article on this site. The particular article is out of London, from March 97, Touch Magazine. In this article, the text is by Darren Corsdale and the photography is by Derrick Santini. I know it's almost 10 years old but I also know some of you newer Max-Heads have yet to see it or even know about it. So read on and ENJOY!!!
maxfactor
A couple of years back it was all about bumps and grinds and booties in the world of R'n'B. But while the raucous soul boyz were getting all the attention, there was a quiet backwater of sensual soul gently bubbling away in the background. Now, in the same way that hip hop has diversified into the conscious versus the braggadocious, soul has found a new mood of confidence without the need for shiny suits or shocking lyrics. Ushering in the new generation was D'Angelo, and hot on his heels came Maxwell, a kind of Al Green with a nineties attitude who knocked the competition sideways and gave a new meaning to the term concept album. Notoriously shy (the artwork on his album didn't even feature his picture) - this most reluctant of stars has women falling at his feet and is poised to become an icon for a generation. Touch flew to Paris to get the goods on New York's most wanted.
The new soul revolution is upon us. Not only will it be televised, it's going to be funky as well. Maxwell has a leading role to play although - in that refreshingly reluctant manner of his - he seems to want nothing to do with this new musical expression.
"There's no such thing as 'nu classic soul' or whatever you want to call it," Maxwell says, almost - but not quite - heatedly. "It's selective memory on the media's part. So many people have been doing amazing music - Toni, Tony, Tone, Soul II Soul, the list goes on. So many people have been working without thinking about the radio ethic. No matter what you dress it in, soul is going to find its home in someone."
True. But if you believe that the new soul revolution is, as Maxwell says, bullshit, you are going to have to pretend for a little while. Pretend there seems to be a lot of quality music about. Fool yourselves into believing there are increasingly more artists racing away from the 'make money' ethic which spread like a sheet from the mid-80s to the mid-90s in modern soul music.
All too often music lovers - even young ones - have had to look backwards to appreciate soul music. The Motown era of the 60s and 70s still has many fans, hence the incessant flow of compilations. Then new jack swing reared its head and although it may have had our arses bumping on the dancefloor, the harsh music invited harsh lyrics. Licentiousness may have been all the rage, it may have sold loads, but something was missing. An intangible something. After all, life is about making do with what you have. Only in retrospect does everything become clearer, the trends discernible, the changes observable.
But we're in the midst of change right now. Still though, this stubborn man with the even more stubborn head of hair refuses to acquiesce. He insists that all the while the world was engaged with the new jack swing, an undercurrent of progressive sould was also doing its thing, albeit in a quieter way. And of course, Maxwell is right. "Thing about hip hop. It went back to old music to revive itself. Soul is so... crafty it latches itself on to something new to recreate itself. It was all loud synth drums, all keyboards before. Evolution is the key to continuing. Trying to do one sound and saying 'It's the best,' is a mistake. I don't have the purist mentality with music - that's bullshit."
Of the stinkiest kind. Maxwell is felling the argument now, flowing freely. "How long did it take till hip hop became something that everyone dug? About six years. Hopefully, with this type of music, it's not going to take so long. There's a great spirit from my peers and my music believers. I'm happy that I'm not alone."
It is by no means a coincidence that D'Angelo, Tony Rich, Erykah Badu, Fugees, Adriana Evans, Dionne Farris, Me'Shell NdegeOcello, Alfonzo Hunter, Eric Benet - and others not yet widely known - have all emerged triumphant (musically, if not saleswise) in the last few years. Maxwell's 'Urban Hang Suite', an album of seemingly impossible depth is one which will be talked about in years to come. You know the story by now, and if you do not, shame on you. If follows Maxwell's sighting, pursuit, wimming and all-consuming affair with a woman. And it's based on a true story.
The accomplishment of 'Urban Hang Suite' is that Maxwell manages to get across musically what his lyrics convey through words. Highly deserving of the NAACP and Soul Train awards it has already won, it's also a Grammy nomination for Best R'n'B Album alongside the Fugees' 'The Score' and Me'Shell NdegeOcellos's 'Peace Beyond Passion'. Maxwell's album aches from the longing of first sighting, 'The Urban Theme' to the enticing 'Welcome', right through sensual affairs, '...Till The Cops Come Knockin'' to his marriage proposal 'Suitelady'. Yes he did propose to a woman after only one night. And she said no? "Well, I'm not married am I?" To this day Maxwell does not know if the woman he spent that one indeligible night with has heard the album. She has not contacted him. "Maybe I'm not contactable in that way anymore."
'Urban Hang Suite' is an album one listens to all the way through as this is the way it is designed. Even after the final song 'The Suite Theme' appears to end, and the CD player studiously counts silence, '...Till The Cops Come Knockin'' rears its head again (pun intended), a lovely little idea. "That's from personal experience. I did that so... er... no matter what you were doing you wouldn't have to interrupt it to re-programme the CD player. That's something I hate!" What could you possibly be doing that getting up to change the CD player was such a gripe, mmm?
It's obvious Maxwell is a sensual man, but more than dealing with sexy music, Maxwell deals with emotions. Long before he knew the word 'love' in all its permutations, he knew of its concept. As he matured, he leaned to the romantic side. The kind of love where two remain one forever. Beds of roses (sans thorns). Monogamy. Making love rather than fucking or doing a t'ing.
Unconsiously, Maxwell gives the impression that he is constantly losing the battle to be unprepossessing. Women simply flutter around him. They would even if he worked in McDonalds. Dressed only in a deep blue towel bathrobe, pyjama bottoms and open-toe leather slippers (you never came downstairs like that?!), he moves quietly for such a big man, in keeping with his shy 'forgive me for interrupting' manner. A black two inch wide hair band fights valiantly to keep the bush off his brow. He sits is the shady part of a Paris hotel room scented by candles made of beeswax, almond oil and other fragrances. He's like that is Maxwell. The proud chin comes first. With its hint of a dent. The explosion of hair contrasts sharply with the geometry of his face. Those dark eyes are deep-set beneath a square, intelligent brow made more interesting by the two-inch scar - often masked by make-up or the way is is shot at certain angles in publicity photos - above his bushy left eyebrow. Maxwell rubs this scar when wistful thoughts cross his mind.
Talking freely on personal matters of the heart, Maxwell often forgets himself, begins to tell an intimate tale, "I can't believe I'm telling you this..." then, as if wrenched back to this time, this place, he realises what he is doing, apologises and reverses sharply. This man is too honest for his own good. He takes the 'keeping it real' idea back to the era when the phrase was not a cliche.
Born of West Indian and Puerto Rican parents, Maxwell's father died when he was three. Mother raised him in East New York and he can remember sitting in church as a youth being pestered by an uncle to learn the piano, which, the young Maxwell thought then, "was cissy stuff." He pushed music away "but when it came, it came ferociously". Describing himself as "pretty invisible" as a child, he is unable to trace his shyness, his reluctance to step into the limelight, to any particular incidnet. "I've always been introspective because of make-believe land," he says enigmatically. "Music always gave me the opportunity to isolate emotion."
At school Maxwell was alone. Teased because of his shyness. "In some instances the other kids were cruel to me but it gave me something to overcome. I had a couple of girlfriends but they were so... weird. I wouldn't have a lot of problems if I lived in London. It's so much more progressive."
The event which is considered, by most middle American kids, to be the highlight of their school years, the rite to passage where childhood meets adulthood passed Maxwell by. The high school Prom saw Maxwell sitting at home, without a date. But he was not unhappy. "It was nothing. I had broken up with my girlfriend a few days before and that was traumatic for me." His revelations about his early life are interesting as from his music, people get the impression that as a youth he was having constant sex. "I was extremely fascinated with sex," Maxwell admits, perking up, shifting on the sofa till the dim light falls on the left side of his face. "I've never had a drink in my life, never smoked anything, so sex has always been the only thing that I've had." He pauses, "I remember..." Trails off. Reverse gear. "Er... no, I can't tell you that." He strokes the scar.
What he does confide is that initially, he wanted to be a songwriter. "But every time I put a song about, people wanted me to sing it. I didn't want to ger into a situation where people would be in my life. Anonymity is gorgeous for me. I had to take a hint from God that this was the way to do it." No one, not even his mother, knew Maxwell was note only signed to Columbia Records, but had been fortunate to work with such notables as Stuart Matthewman of Sade fame and guitar genius Wah Wah Watson on his debut. Mother saw a video and called sone. "She wasn't hurt I hadn't told her anything. She understood that this was my way. My family had other hopes for me - as in Lawyer, Doctor (he says them in such a way that they demand capital letters). Something stable."
Maxwell still goes to the deli to by a sandwich "but with a big hood" and says he still bumps into people he went to school with. "People are happy and want to take you back in time... 'You remember when...?' I'm not ashamed. Some of my ex-girlfriends trip though. When you have intimate relations with someone and then they may have your record? Hmmm..." He strokes his scar as if he's just noticed it. How did he get the scar? "Ti wasn't anything violent, don't worry, it was in fun."
What is infinitely satisfying about modern soul artists is that many of them are addressing the issues which hip hop felt obliged to address. These children of hip hop know they have a resposibility. Erykah Badu sings the 'Otherside Of The Game' about being a drug dealer's girl; Adriana Evans sings about the pains of 'Reality'; Me'Shell NdegeOcello waxes lyrical on homosexual issues; Maxwell deals with love. Maxwell is a unique modern gentleman. He may be somewhat libidinous, be he manages to maintain a lot of class. Monogamy has a certain appeal for him. "Well, I have to look and find," he smiles, "but pretty much that's me."
It's almost two years to the day 'Urban Hang Suite' was recorded. Not only has he almost completed his follow-up album, but he has also written material for the third. He's a man of musical notoriety but still has female trouble like most men. In fact, he was in tears a week ago. Deeper into the interview he is not as reserved as he was to begin with. Normally fluent and articulate Maxwell suddenly stumbles over each word explaining the reason for his hurt. He adopts that weak-ass L.A. phraseology of using 'like' in every sentence. "It was like... I... (sighs before adopting safety of second-person phrasing). When you really, really want someone to be your girlfriend... and you're not sure they want it?..." An emotional chappie is Maxwell.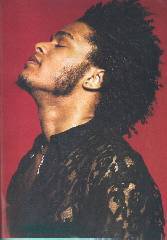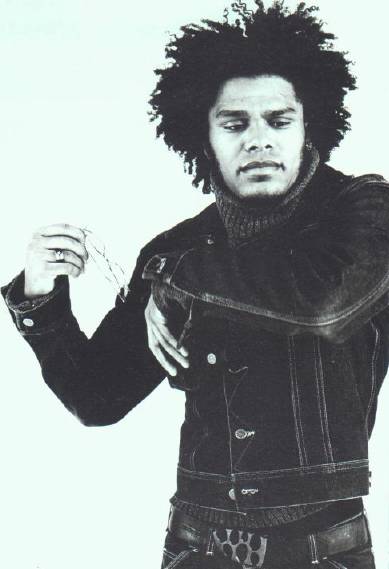 _____________________________________________________________________________________
As always, please forgive typos!

_____________________________________________________________________________________